Parkinson's sufferer ejected from Halfords 'for funny walk'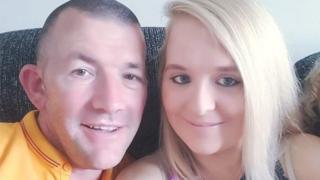 A man with Parkinson's disease was told to leave a Halfords store for acting suspiciously by "walking funny".
Chris Cartlidge, 51, was ejected from the shop in Trent Vale, Stoke-on-Trent, after his symptoms caused his leg to stiffen and drag on the floor.
He said when he told a shop assistant he had Parkinson's, she replied: "I don't care what you've got, I want you to leave the store."
Halfords said it had "sincerely apologised" to him and his family.
Mr Cartlidge, who was diagnosed with Parkinson's 10 years ago, said he had approached the shop assistant for help in finding some car parts in January.
"I try to be as normal as possible but it's really demeaning when people say things like that to me," he said.
His daughter Katrina Cartlidge said she was "devastated and mortified" by the way her father was treated at the store on Springfields Retail Park.
"It's hard to see him suffering like this," she said, adding that he tried to "make the most of life" and remain as active as possible.
"I would never expect someone to treat my dad that way or anyone to be judged by that - by disability."
You might also be interested in:
A spokesperson for Halfords said its team "fell short of meeting our standards".
"We are all very sorry for Mr Cartlidge's experience and sincerely apologised to him and his family at the time for any embarrassment this misunderstanding caused."
Benali Hamdache, campaign manager at Parkinson's UK, said the charity is "calling for a little bit more awareness and a little bit more understanding".
"We hope that Halfords can actually start by leading with an example and embrace our call to take on some training," he added.