Stoke-on-Trent flat fire: Baby still in hospital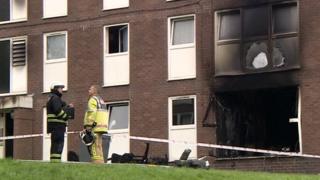 A baby is still in hospital more than four months after she was seriously injured in a flat fire which killed her mother and sister.
Zainab Adam, 36, and Tafaoul Fadoul, six, died in the blaze at a council-owned block of flats in Ringlands Close, Stoke-on-Trent, on 1 October.
Tamunni Fadoul was six months old at the time and her condition then was described as "critical".
Staffordshire Police said there was no significant change in her health.
The force said she remained "poorly".
Councillor Jean Bowers told the BBC medical staff were "staggered" Tamunni had "kept going" for so long.
Investigators said the fire involved a wall-mounted electric storage heater which was close to clothing.
The blaze damaged six flats at the council-owned block.
Ms Adam and her daughters were affected by smoke inhalation after the blaze started in the flat below, the fire service said.
Staffordshire Fire and Rescue and Staffordshire Police are investigating.