Alton Towers reveals images of wooden rollercoaster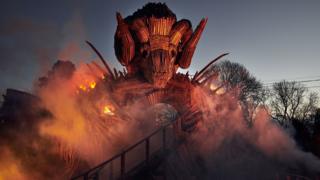 Alton Towers has revealed images of its new wooden rollercoaster which "will appear to burst into flames".
The Wicker Man is believed to be the first wooden ride built in the UK for 21 years.
The new £16m rollercoaster, which is due to open in the spring, will feature a 57.5ft (17.5m) flaming structure.
It is the first major ride announced by the Staffordshire theme park since the crash on the Smiler ride in 2015, which seriously injured five people.
Alton Towers saw a "25% drop in visitors" in 2015, which was a bigger decline than any other large theme park in Europe, according to a report published in 2016.
Themed Entertainment Association, which reports theme park attendance at global attractions, said this was down to the Smiler crash.
The park's owners said the figures were estimates and not confirmed.
Merlin Attractions was fined £5m when two carriages collided in the crash.
Vicky Balch, then 19, and Leah Washington, then 17, both lost a leg and 14 others were injured.
When the ride was first announced in January, Twitter users highlighted the potential problems of the use of fire on a wooden rollercoaster.
Since the new pictures have been unveiled, people on social media seem excited to try out the new ride.
The theme park revealed more details about the ride saying before boarding the ride, customers will discover the world of the "Beornen, a secret community living in the woods around Alton".
The rollercoaster boasts a track made from "hand-carved" timber and will carry 24 passengers per ride, made up of two trains.