Heater blamed for Cannock carbon monoxide death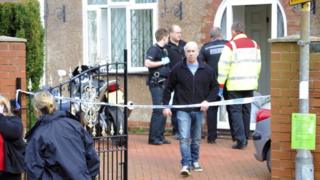 Carbon monoxide levels at a house where a woman died were at least three times the safe limit, fire investigators say.
Gwendal Stanley, 73, was found dead at the property in Cannock, Staffordshire on Tuesday. Her 75-year-old partner is critical in hospital.
Carbon monoxide levels of 100 parts per million was recorded in the home. The maximum safe limit is 35 parts per million over an eight-hour period.
Investigators believe a coal heater caused the "dangerously high levels".
Paul Shaw, from Staffordshire Fire and Rescue, said: "The firefighters at this incident took a carbon monoxide reading after the home had already been ventilated, so it is highly likely that the levels were well over 100."
Police were called to the house by a concerned relative at about 10:30 BST.
Firefighters gave the man oxygen before he was taken to New Cross Hospital in Wolverhampton.
Ms Stanley was confirmed dead at the scene and her death is not being treated as suspicious.
Mr Shaw urged people to have carbon monoxide alarms fitted so they can be alerted to the "odourless, invisible and silent killer".