Mum and daughter home after Yarl's Wood detention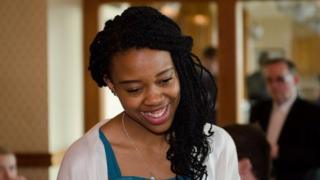 A mother and daughter who were held in an immigration removal centre since January, despite being in the UK for 14 years, have been released.
Opelo Kgari, 27, was detained in Yarl's Wood, Bedfordshire, along with her mother Florence.
The pair narrowly avoided deportation to Botswana on at least two occasions, the BBC understands.
Now they have returned to Stoke-on-Trent and their lawyers have asked for "privacy".
A spokeswoman from the Home Office confirmed they had been released but said their immigration status had not changed and "they continue to be required to report to immigration enforcement".
A petition to free Ms Kgari has attracted more than 5,000 signatures.
In a statement on the petition, following her release, Ms Kgari, said: "I have never been so grateful to have an army of amazing people and warriors who will fight for injustice, not just for me but for so many people."
Speaking to the BBC's Victoria Derbyshire programme last month, her mother Florence described being detained at Yarl's Wood as "mental torture".
Ms Kgari has lived in Britain for more than half her life, coming from Botswana in Southern Africa, at the age of 13 after her mother first moved here.
On one occasion the court issued an injunction to stop Ms Kgari's deportation after she was sent to Heathrow Airport, The Independent reported.
Speaking to the Victoria Derbyshire programme from Yarl's Wood on 5 April, Ms Kgari said: "I think the Home Office thinks that 'if we do release you, there's a very strong chance you'll just disappear'.
"The last thing we want to do is to hide."