Dumped horse found in Stoke-on-Trent garden makes good recovery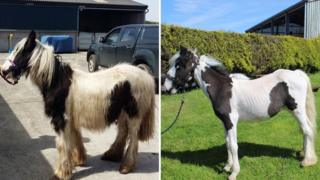 An unwanted horse dumped in a back garden is doing well at his new home.
Mr Melvin Andrews was left in the garden in Stoke-on-Trent after a teenage girl responded to an online advert. The advert said he would be put down if no-one responded.
He was underweight and clearly was not treated well, the RSPCA said.
The World Horse Welfare centre in Blackpool said the sweet and cheeky colt was settling in well and was very popular with guests.
The girl's grandmother had been surprised to find the horse in her back garden.
Mr Melvin Andrews arrived at Penny Farm on 2 May.
The farm is open to the public on weekends, and Carys Samuel from the charity said that since his story gained publicity, Mr Melvin Andrews has had lots of visitors.
Because he is underweight, the colt - at just 10 months old - will be rehabilitated at the farm for up to a year before he is re-homed.
Ms Samuel said the charity receives a number of horses like Mr Melvin Andrews who are "indiscriminately bred in the hope they will be of reasonable quality" and later dumped.
The RSPCA said horses are regularly being dumped and left to die, with almost 1,000 being rescued by the charity in 2017.
You may also be interested in:
"If a horse dumped, it's likely to be a colt," Ms Samuels said, citing breeding potential as top of the reasons why.
The horse was named after the RSPCA's Charlotte Melvin and World Horse Welfare field officer Rachel Andrews.