Staffordshire girl broke hand jumping from police car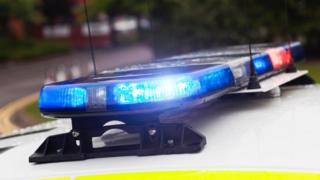 A girl who accused police of causing serious injury to her hand was likely to have hurt it jumping out of a moving police car, an inquiry found.
The Independent Office for Police Conduct (IOPC) investigated Staffordshire Police's use of force when the 13-year-old was arrested in Burton upon Trent on 1 May last year.
The girl suffered a broken hand, which she claimed had been caused by police.
Investigators ruled it was a result of jumping from the vehicle.
The case was referred by the Staffordshire force when the injury was confirmed in hospital.
It happened when officers responded to reports of anti-social behaviour.
'Necessary' force
After the arrest was made, the girl jumped from the rear of a moving police car and fell to the ground before running off.
The arresting officer, who was on his own, caught and restrained her.
She was then hand-cuffed by another officer who had been called to the scene as back-up.
The IOPC said it reviewed bodycam, CCTV and mobile phone footage and medical evidence in reaching its conclusion.
It said this showed any injury was likely to have been caused when she escaped and fell from the car, rather than during any physical contact with the officers.
IOPC regional director Derrick Campbell said: "We found that the police use of force throughout this incident was necessary and proportionate in the circumstances."
The girl accepted a youth conditional caution after admitting a public order offence, assaulting an officer and criminally damaging a police vehicle.