Staffordshire sperm donor hid it from his wife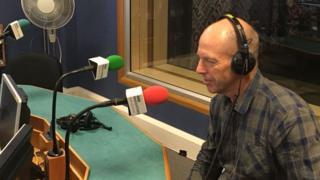 A man who claims to have fathered 67 children across the UK as an "unlicensed" sperm donor says he hid it from his wife.
Despite making donations free of charge for half a decade, Clive Jones from Staffordshire only told his wife of 39 years about two years ago.
Mr Jones, 62, who meets most of his clients on Facebook, said she "is not very happy" about the situation.
He has another 13 babies on the way and would like to father 100 children.
Mr Jones, who featured in the Channel 4 show 4 Men 175 Babies, said he kept it from his wife "for good reason", but after his television appearances she is "even less happy".
"But I've not been kicked out of the house yet," he added.
The father-of-three, and grandfather, said he started providing donations to help people who have struggled to have a child.
"If I'm proud, I'm proud because I helped these families," he said.
He said he will drive to a spot close to the recipient's home, produces his sample into a syringe in the back of his van and takes it to them "under his arm" to keep it warm.
'Taboo'
Artificial insemination is available on the NHS, subject to certain criteria, while private clinics charge between £800 and £1,300 for each cycle of treatment.
Mr Jones said he is unable to donate officially, because there is an age cut-off of 45.
The government warns unlicensed sperm donations are the legal father of any children produced.
He claims there is a shortage of donations in this country and the idea of sperm donation should be less "taboo".
Though Mr Jones provides STD test results, fertility charities have warned women using "unlicensed" services they can be putting themselves at risk of sexual and hereditary diseases.