Halloween pumpkin started fire that killed Lucas Carter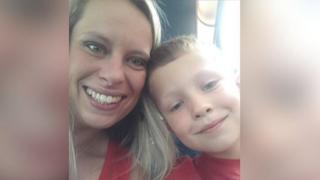 A house fire the night before Halloween that led to the death of a boy was started accidentally by tea light candles in a pumpkin, a coroner ruled.
Lucas Carter, eight, died in October 2016 from the effects of smoke inhalation in Sandbach, Cheshire.
His mother Kelly-Anne Carter, 35, suffered serious burns and later killed herself because she could not go on without him, her inquest was told.
Cheshire coroner Claire Welch described it as a "truly horrific accident".
In the hours leading up to the fire, officers at Cheshire Constabulary received a report of concern for Lucas's welfare.
They attended the home and spoke to the pair, but the force decided no further action was required.
The inquest into Lucas's death, at Crewe's Municipal Building, heard how he and his mother had been watching scary films for Halloween, on 30 October, before he went to bed.
Kelly-Anne had then fallen asleep after having a glass of wine and lighting candles inside a pumpkin.
When she woke, the curtains were "thick with flames", she later told police.
'Void left'
She made attempts to rescue her son, but could not get to him because of the severity of the smoke.
The inquest heard she told officers she had been "disorientated" when she woke up and did not know which bedroom Lucas was asleep in.
Ian Pugh, investigating officer at Cheshire Fire Service, told the inquest the fire would have fully developed "in minutes".
He said the conditions were "very difficult, there was zero visibility and it was extremely hot".
Mrs Welch said the family had behaved with "sheer dignity" amid "incredibly distressing evidence" and told them she could not "imagine the grief you're going through".
Gemma Williams, 35, Kelly-Anne's sister, said Lucas was "the kindest, most gentle little boy" and a "void" had been left in their lives.
"We miss them both so much," she said.
The Independent Office for Police Conduct (IOPC) said Cheshire Constabulary had introduced child protection training for staff following Lucas's death.