Hixon sprinkler firm uses own product to save business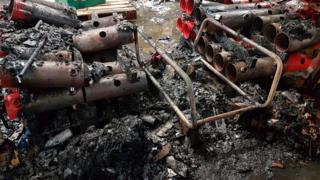 A sprinkler company that used its own product to prevent the spread of a fire has been commended by a fire service.
Staffordshire Fire and Rescue service was called to the Project Fire factory based in Pasturefields Industrial Estate in Hixon, in the early hours of Friday 3 August.
When crews arrived, they found the fire had been contained by the sprinklers that had been activated in the factory.
The firm said the blaze showed how essential sprinklers are.
The fire service's fire protection manager, Stuart Ruckledge, said the activated sprinkler heads "mitigated any substantial fire damage".
Stuart Cain, managing director Project Fire, said: "It has shown that fire can strike anywhere and has brought home yet again how crucial and effective sprinklers are at protecting property from significant damage and saving lives."