Stoke-on-Trent Central candidate jailed for race hate crimes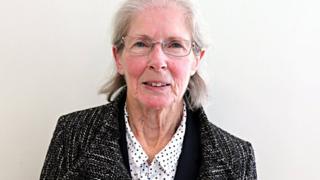 A parliamentary candidate who praised Hitler on a blog has been jailed.
Barbara Fielding-Morriss, 79, was convicted of three counts of stirring up racial hatred at Stoke-on-Trent Crown Court in June.
The self-confessed white supremacist and anti-Semite stood as an independent for the city central constituency in 2017's election.
Judge Mr Recorder Julian Taylor said he found her attitude during the trial "sinister".
She was jailed for 12 months.
He said Fielding-Morriss, who represented herself in court, had "not helped her cause" by offering anti-Semitic mitigation.
She had submitted three written statements to the court and claimed she was protecting "my white nation" from "annihilation" by immigrants.
As she was led away, Fielding-Morriss, of Stuart Avenue, Draycott, Staffordshire, told the judge he had "completely ignored freedom of speech laws".
"Stir up hatred"
In four blogs between September 2016 and September 2017, she included statements about how asylum-seeking Jews were like termites and made comments about mentally disabled migrant children, jurors were told.
She also described Adolf Hitler as a good man and wished Great Britain to be "white only".
Recorder Taylor told Fielding-Morriss: "The fact of the matter is you intended to stir up racial hatred.
"The fact you were standing in a general election as a parliamentary candidate aggravates this case, because you were putting views forward to an electorate."
Fielding-Morriss stood in last year's Stoke-on-Trent Central by-election and in the last general election, polling just under 250 votes in both.
She was told she would serve six months in custody and the remainder on licence.
Recorder Taylor said an immediate custodial sentence was "appropriate."