Mum and daughter 'told to leave' country after 15 years in UK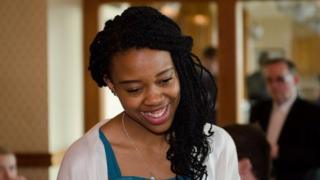 A mother and daughter living in the UK for 15 years have been told by the Home Office they must leave, their lawyers say.
Opelo Kgari left Botswana to follow her mother Florence, who, the women said, had fled a violent relationship.
The pair, who live in Staffordshire, spent five months of 2018 in an immigration removal centre.
The Home Office said it expected people "found not to need" protection to leave the country voluntarily.
"Where they do not," its statement added, "we will seek to enforce their removal."
Despite the pair's claims to asylum having been rejected, their legal representatives say they wish to fight the threat of deportation on two fronts.
Not only are they seeking to remain in the UK on the grounds they would find risk on returning to Africa, they are also arguing on the grounds of long residence, with Ms Kgari, 28, spending more than half her life in the UK, having arrived at the age of 13.
Ms Kgari said: "Having spent so much time in the UK I've become so well integrated in this community and my life is here.
"To be almost forced to go back to a place I wouldn't recognise anymore, my life wouldn't be safe.
"It just seems logical to remain."
Her solicitor Bahar Ata says the women's cases are decided together and they are pursuing an appeal set to go before a tribunal hearing in November.
Halfway through their second decade in the UK, the pair, based in Wolstanton, were held for five months at Yarl's Wood Immigration Removal Centre in Bedford.
They were released in May, although the Home Office said at the time the move did not mean the women were permitted to stay in the UK.