Stoke-on-Trent charity burgled three times in a month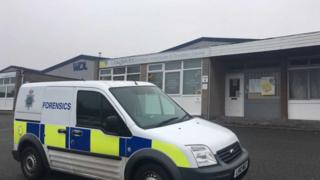 A hospice charity has been burgled three times in a month.
In the latest incident, the Douglas Macmillan Hospice warehouse in Burslem, Stoke-on-Trent, was targeted some time between Saturday evening and Sunday morning.
The charity said it caused "significant damage" which would need thousands of pounds to repair.
Head of retail Liz Clarke said: "I just feel sick to the stomach that someone would think it is ok to go again."
The warehouse in Federation Road stores goods to be sold at its shops in aid of local families.
Both the warehouse and the charity's shop in the Meir area of the city had been targeted earlier in November.
That led to boosted security, but at the weekend burglars forced their way into the warehouse building.
The charity said they damaged property and stole petty cash and jewellery from a safe they destroyed.
The money needed for repairs was intended to go towards providing care, the charity added.
Ms Clarke told the BBC: "[The Burglars] are obviously trying to find money, but we do not hold large sums of cash on our properties.
"So when they try to look for that sort of thing they are having to ransack the place to find what they are looking for.
"When they don't find it, they leave us with all the mess to clear up and the expense."
Staffordshire Police said it was investigating.