Staffordshire PC sacked after sharing crash scene footage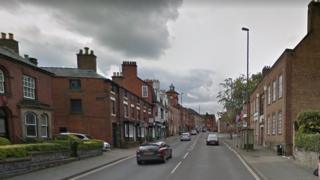 A police officer who shared footage of a fatal crash scene has been sacked.
PC Andrew Parry was found guilty of misconduct in a public office earlier this month.
Police said the officer had recorded on his phone bodycam footage of a crash scene in Leek, Staffordshire, in April 2017. He then shared it with colleagues.
Parry was dismissed at a Staffordshire Police special case hearing earlier.
A 56-year-old man from Congleton had died at the scene after a collision between a motorcycle and a truck on 21 April 2017.
Parry had attended the crash with his bodycam filming, before returning to the station and recording the footage onto his mobile.
He then shared the footage with colleagues without a policing purpose, Staffordshire Police said.
His behaviour was reported to supervisors who led an internal investigation, and then a criminal investigation.
He was previously sentenced to 12 months suspended for two years at Nottingham Crown Court on 1 November.
At the special case hearing Staffordshire Police found Parry had committed gross misconduct and dismissed him with immediate effect.
Staffordshire Chief Constable Gareth Morgan said: "For one officer to betray the trust of the victim and his family and to share footage of this incident is shocking and reprehensible.
"Andrew Parry brought shame on himself and discredit to the wider service. There is no place for him in Staffordshire Police."