Paramedics assaulted and ambulance vandalised in Handsworth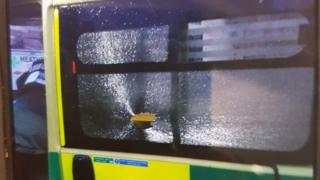 A patient attacked paramedics trying to treat him, vandalised their ambulance then assaulted a police officer.
The crew had responded to an emergency call in Handsworth, Birmingham, at about 07:00 GMT, West Midlands Ambulance Service (WMAS) said.
A paramedic was pushed and the crew chased into their ambulance and the vehicle's window was then smashed.
The police officer was kicked and her fingers twisted as she arrested a 40-year-old man, the force said.
WMAS chief executive Anthony Marsh said: "Although physically unhurt, this must have been a terrifying ordeal for our staff.
"We will provide support for them going forwards, but this is something that simply should not happen.
"No one deserves to be assaulted, but our staff are there to help people in their hour of need; they are there to protect and save the lives of the public."
The service said it would push for charges to be brought under new legislation meaning the maximum prison term for people found guilty of common assault against emergency workers would double from six months to a year.
The man was arrested on suspicion of criminal damage, malicious communications and two counts of assault and remains in custody, West Midlands Police said.