Jonnie Meek: Second inquest finds boy, 3, died from milk allergy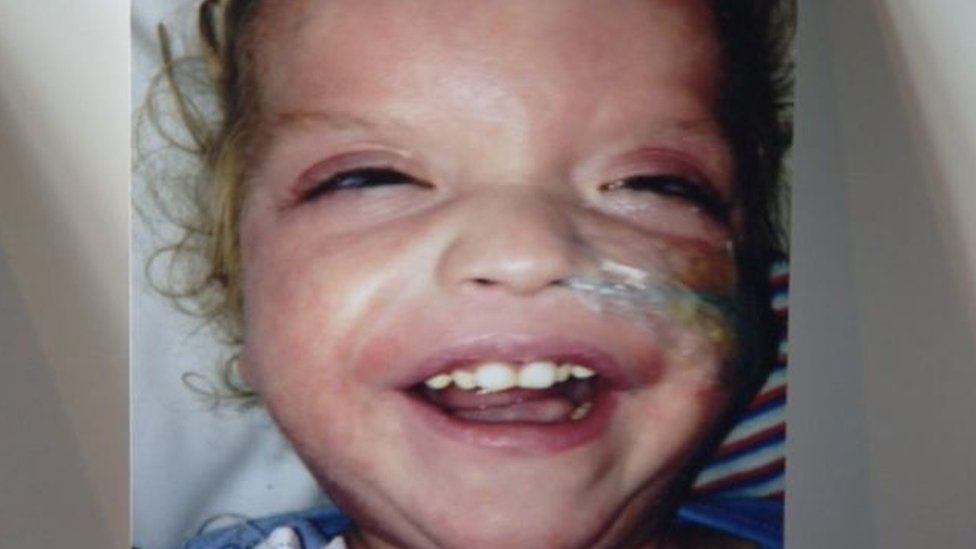 A second inquest into the death of a three-year-old boy found he died due to an allergic reaction to hospital milk.
Jonnie Meek, from Cannock, died at Stafford Hospital in 2014.
A coroner originally ruled he had died from natural causes, but this has always been disputed by his parents.
The four-day hearing at Shrewsbury Coroner's Court heard how Jonnie, who had a milk allergy, "turned purple" during a trial feed with a new hospital formula and later died.
The boy, who had a rare congenital disability, had only turned three two days earlier and had had three previous allergic reactions.
His mother, April Keeling, told the inquest she had asked for a supervised feed at the hospital and told the nurse - Amanda Shenton - when Jonnie's condition started to deteriorate.
"He tensed up. His eyes rolled back. I ran out of the room and ran onto the road. I wanted to kill myself at that point," she said. "I wanted to die."
Ms Shenton contradicted Ms Keeling's testimony but coroner John Ellery believed the mother when there was conflicting evidence.
"In as far as there is a discrepancy in the evidence, I accept what the mother says," Mr Ellery said.
"He was rubbing his hands, becoming restless, a purple colour around his mouth, eyes swelling up. He had a rash which had a nettle sting appearance."
John Meek, his father, thanked Mr Ellery, saying it was "a huge relief that you have believed what April said".
University Hospitals of North Midlands NHS Trust, which runs County Hospital Stafford, said Jonnie's death was "an incredibly sad incident".
"We would like to offer our sincere condolences to the family."
Related Internet Links
The BBC is not responsible for the content of external sites.