Burton upon Trent haulage firm struggling amid HGV driver shortage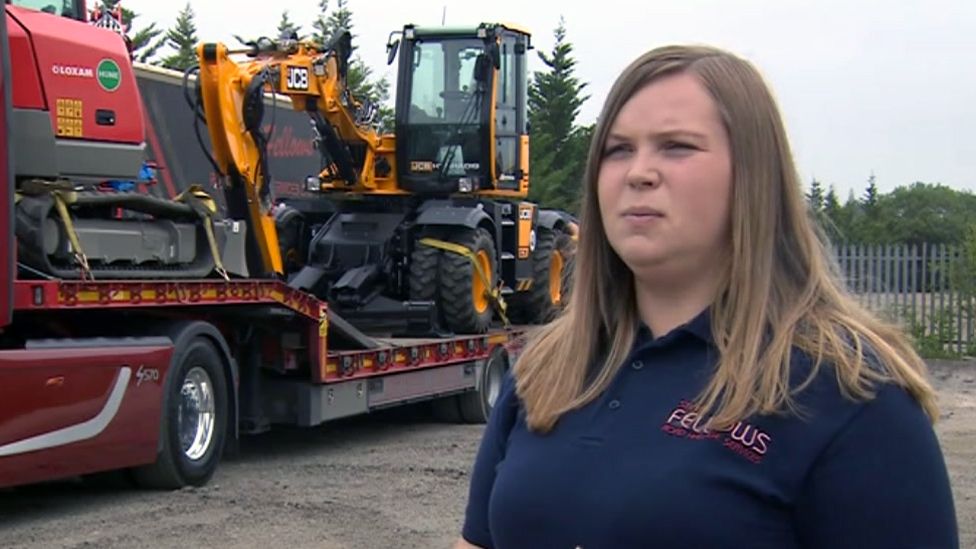 A haulage firm has said it is struggling to fulfil supermarket orders as the UK faces a shortage of drivers.
The organisation has said the sector has now reached "crisis point".
Laura Salt, operations manager at a firm in Burton upon Trent, said there was a danger of a "knock-on effect with getting food on the shelves".
"We've got the trucks, but we just haven't got the drivers," she said.
Steve Fellows Haulage Services Ltd has a contract with a major supermarket chain and runs 15 vehicles.
Ms Salt said the Staffordshire firm was "struggling" to cover deliveries and had recently lost three European drivers, who had returned to their home countries.
"It's due to the paperwork and all the stuff that goes with staying in the UK. They just thought it was easier to go back home," Ms Salt said.
A shortage of staff has meant the owner of the business, Steve Fellows, has been forced to drive himself, spending more time on the road than in the office.
David Malcolm, who runs operations at Virginia Transport and Warehousing, in Tamworth, has also recently been swapping his computer for a truck cab.
He said essential nightly deliveries, including car parts, was all the firm could manage at the moment.
"We could do with another 15 men to run the place as we'd like to run it," he said.
"We've also drivers who are getting 'pinged' [by NHS Track & Trace]. We've got boys back on Monday who have been off for 10 days."
A survey by the RHA highlighted Brexit, long working hours, as well as the high cost of training and getting licences as among the reasons for the shortage of drivers.
"It costs about £7,000 to train to be a lorry driver and the average unemployed [person] or school leaver can't afford that money," Rod McKenzie, from the RHA, said.
He added it was "not good for their [drivers'] safety" and "not good for road safety".
The government has previously said the move would give flexibility to drivers to make slightly longer trips.
It said driver safety must not be compromised and operators must notify the Department for Transport if the relaxation is used.
Transport Secretary Grant Shapps said the government had also "ramped up" the number of driving tests available and would consider other measures.