Soldier who lost both legs in Afghanistan says he has to believe it was worth it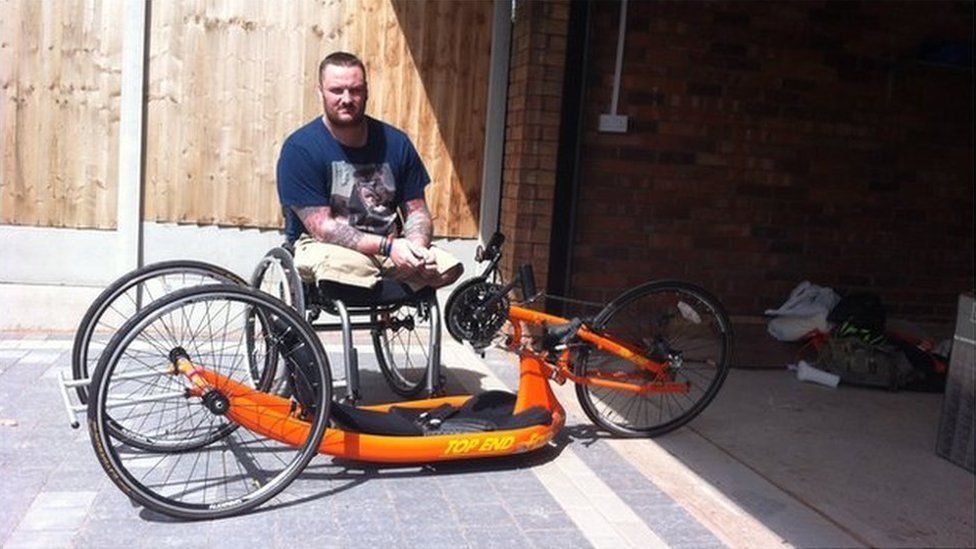 A former soldier who lost both his legs in Afghanistan says he and his colleagues have to believe it was all worth it.
Clive Smith, of Cannock, Staffordshire, spoke of his feelings as thousands of people fled after the Taliban seized control of the Afghan capital, Kabul.
He said it was heartbreaking to see years of work ripped out but service personnel had acted with integrity.
His work helped to remove bombs which saved countless lives, he said.
"To put that kind of infrastructure in place and that ground work in place and to see it ripped out from under them it's heartbreaking to see," he said.
Service personnel "served with the utmost integrity and discipline" and had got Afghanistan to a "better place", he added.
"We have to believe that was worth it because we can't turn around and say to the families of 457 people who have died - that it was all for nothing. Because that's unfathomable," he said.
"It is worth something and they have died for something and I've lost my legs for something."
He added he felt the transition of getting the country to manage itself had not been successful but that this was the responsibility of governments.
The 36-year-old was in the country in 2010 searching for roadside bombs and Improvised Explosive Devices (IEDs) while serving with the 33 Engineer Regiment.
He "instantly lost both legs" when he stood on an IED while at the front of a patrol.
The former sapper, who fronted the Poppy Appeal in 2012, went through six years of rehabilitation and said he had been on a "successful journey in as much as that I am still here and I'm getting on with life".
Taking part in three Invictus Games had played a "massive part" in his recovery, he added.
Related Internet Links
The BBC is not responsible for the content of external sites.