Walleys Quarry: 'Smell counsellor' post created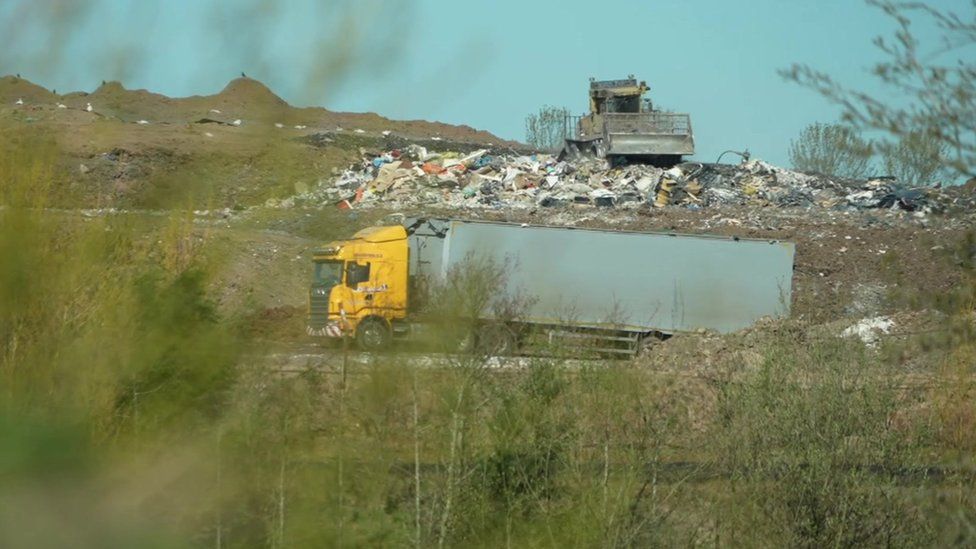 People whose depression is being linked to bad smells from a nearby landfill site are to be offered counselling from a full-time professional.
The charity Mind and an NHS trust have advertised for a dedicated role to support neighbours of Walleys Quarry in Staffordshire.
The site has been at the centre of thousands of complaints about odours for several months.
The quarry says it is working to resolve matters.
Dr Mark Kenwright, who represents a wellbeing partnership including the agencies advertising the new position, said the number of residents reporting issues blamed on bad smells had increased.
"Sleep disturbance is a big problem for people," he said. "They cannot sleep, they are reporting the smells being worse at night."
He added reports also included residents' anxieties about the potential effects on not only their own health but that of their children.
But the effect on people's mood is also high on the list of concerns, with Dr Kenwright saying "day in, day out" the smell "really is getting people down and causing depression".
Once the counsellor is appointed, people will be able to self-refer for one-to-one sessions to talk through their concerns as well as learn mental health coping strategies.
The job is being provided through a partnership between Mind and Midlands Partnership Foundation Trust.
But at the time it said that did not necessarily mean people's health would be affected.
The quarry is also at the centre of a High Court challenge from the family of a five-year-old who say his breathing problems have been worsened by H2S.
Operator Walleys Quarry Ltd said it remained committed to doing everything in its power to help remedy the situation as soon as possible.
Related Internet Links
The BBC is not responsible for the content of external sites.