Walleys Quarry: More breaches found at noxious smell site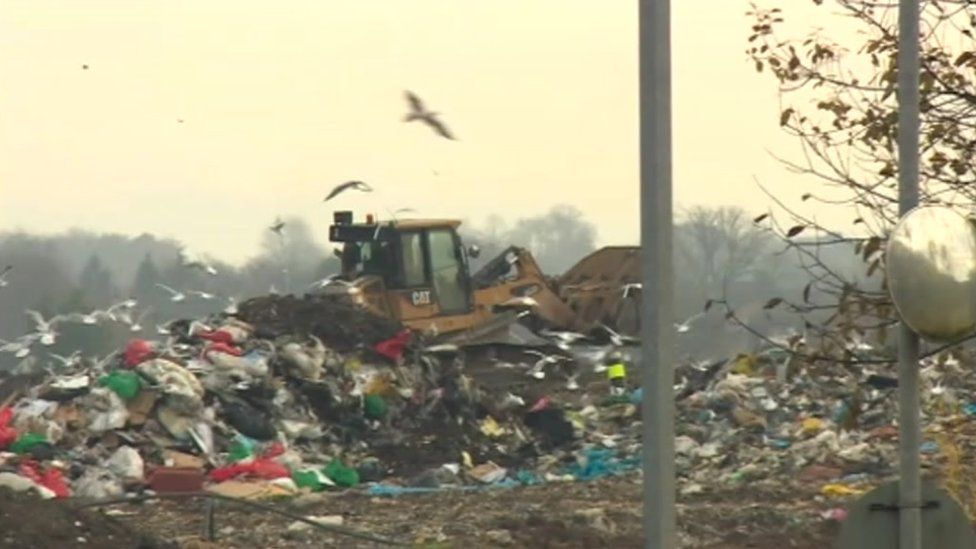 A landfill site at the centre of a High Court row amid complaints of a noxious smell has committed further permit breaches, authorities say.
There have been thousands of complaints from residents of a strong, unpleasant odour at Walleys Quarry in Staffordshire.
They say it causes sleeplessness and breathing difficulties.
The company operating the site has challenged aspects of the Environment Agency's (EA) latest assessment.
While the EA said at the time the H2S - a toxic gas with an eggy smell - did not necessarily mean people's health would be affected, it has stated the odour was "blighting the lives of the local community".
In a new probe on 18 August, the EA made an out-of-hours visit in response to community concerns about gulls.
During the inspection and a subsequent site visit, the EA said it found insufficient covering of tipped materials, and the odour outside the site at a level likely to cause pollution.
The EA said the site's permit did not require all waste to be covered at the end of a working day, but sufficient cover was required to control pests and vermin.
The company running the site, Walleys Quarry Ltd, has challenged aspects of the assessment - rebuttals that are set to be considered within 28 days.
In the meantime, it has been told to carry out a surface emission survey and make checks on a temporary capping layer at the site to identify any necessary improvements.
It will also have to install appropriate capping to prevent emissions of landfill gas outside the site boundary by 20 September.
The company has been approached for comment.
An EA spokesperson said: "We are doing the best we can to bring the operator into compliance and will continue to hold Walleys Quarry Ltd to account to improve its management of landfill gas at the site.
"Since February, we've demanded a considerable amount of action from Walleys Quarry Ltd to reduce the landfill gas escaping from the site and blighting the lives of the local community. We will continue to take action until landfill gas escaping from the site is appropriately managed."
Related Internet Links
The BBC is not responsible for the content of external sites.