Sebbie Hall: Teenager's daily acts of kindness lead to foundation launch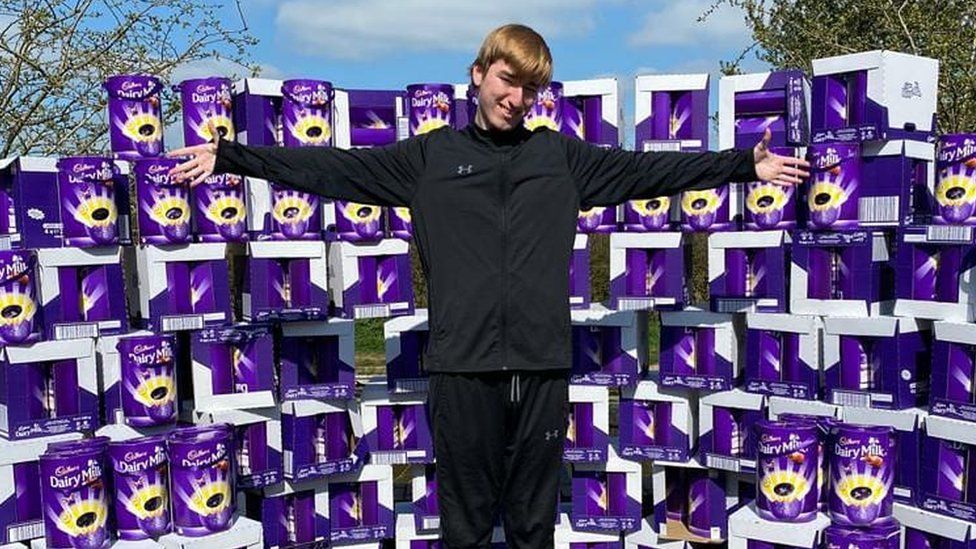 A teenager who started doing daily acts of kindness to raise £1,000 has now launched a foundation for good causes.
Sebbie Hall, from Lichfield, Staffordshire, started in March 2020 when his school closed due to Covid-19.
With the help of his mother Ashley, he has now set up The Sebbie Hall Kindness Foundation and raised nearly £40,000.
"He just wants to keep going," Mrs Hall said.
Among his kind deeds, he collected coats to give to the homeless, hid Easter eggs around his village, and near Halloween collected pumpkins which then were made into soup for those in need.
He also bought lottery tickets each week with his pocket money and handed them out to lucky strangers with "no strings attached".
Part of the money raised by Sebbie has helped provide inclusive IT equipment to young people who have disabilities.
He has also supported the creation of arts and sports activities for young people who are isolated because of disability, disadvantage or mental health.
Sebbie, who has a rare chromosome anomaly which has resulted in low muscle tone and speech problems, was invited to the The Duke and Duchess of Cambridge's carol concert at Westminster Abbey, in recognition of all his work.
"He's had letters from Boris Johnson, the Lord Lieutenant of Staffordshire," Mrs Hall said, who added her son was also shortlisted for a Pride of Britain award.
"He had about £150 in cash for his 18th birthday and he insisted on putting it on his JustGiving page. We said 'no Sebbie, that's money for you to spend', but he said it would make him happier to donate it," Mrs Hall said.
"I can't believe it, all he wanted to do was raise £1,000 for doing 100 good deeds, but now he's made such a difference and [he has] the kindness foundation.
"It's given him a value to himself. For the last 17 years of his life someone has always had to do things for him, but it's given him this confidence that's spurred him on and to show that you can do anything.
"To think when he was diagnosed, we were told he would never walk or talk or sit up even; he's come from that and to think what he's achieved."
He has also featured on news outlets across the world since he received a World Compassion Award from The Supreme Master Ching Hai, a Buddhist humanitarian world leader.
She awarded Sebbie with $10,000 (£7,500) which has enabled him to set up the foundation.
Related Internet Links
The BBC is not responsible for the content of external sites.