Suffolk special officer given driving ban for crash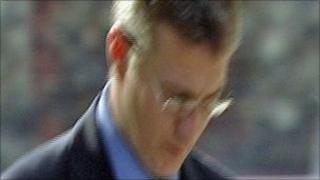 A Suffolk special sergeant whose patrol car was in a crash after he blocked a road during a pursuit, has been given a six-month driving ban.
Mykal Trim, 38, was found not guilty of dangerous driving by a jury at Norwich Crown Court.
He was convicted of careless driving following the crash in Tom Crisp Way, Lowestoft, in February 2009.
The prosecution said special officers were not permitted to take part in such pursuits. Trim was also fined £1,000.
It was alleged he swung the police car across the road as police pursued a suspected drunken driver, deliberately blocking it.
The driver being pursued crashed into the patrol car injuring himself, his passenger, Trim and another special officer who bore the brunt of the impact.
The officer suffered multiple fractures including a fractured pelvis and his condition was initially considered life threatening.
'Detrimental impact'
When interviewed, Trim claimed he was carrying out a three-point turn, the jury was told.
He attended court on crutches and his barrister Richard Atchley said he was unable to drive due to the serious leg injury sustained in the crash.
The case was investigated by the Independent Police Complaints Commission (IPCC), which described Trim's actions as "extremely careless".
Suffolk Police said Trim had not been suspended as his injuries prevented him from carrying out operational duties.
He now faces the possibility of an internal disciplinary hearing, a spokeswoman added.
IPCC Commissioner Rachel Cerfontyne said: "The actions of Special Sgt Trim were extremely careless and placed his colleague, members of the public and himself in extreme danger.
"The injuries his colleague, also a special, suffered have had a lasting detrimental impact on his life.
"I wish him the best as his recovery continues."