Air assault brigade gets freedom of St Edmundsbury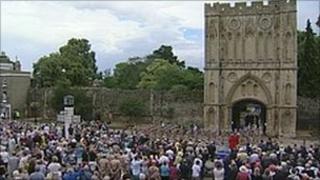 An Army air corps that served in Afghanistan has been awarded honours by a council in Suffolk.
Army helicopter pilots, ground crew and technicians from 3 Regiment Army Air Corps based at Wattisham were given the Freedom of St Edmundsbury.
Thousands of people lined Angel Hill to see the soldiers marching.
After the ceremony 110 members of the regiment marched through the town to receive medals from The Prince of Wales, their Colonel-in-Chief.
One of the regiment's Apache helicopters also landed in the town.
The regiment recently returned from a year in Afghanistan where three squadrons flew and maintained Apache helicopters in Helmand.
In his speech after the parade The Prince of Wales said: "The town of Bury St Edmonds provided a splendid backdrop for an important day for the officers and soldiers of 3 Regiment Army Air Corps."