Norway memorial to British heroes unveiled in Suffolk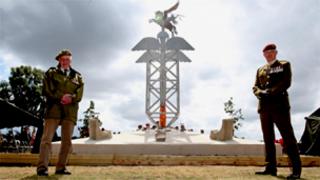 A memorial to British troops who fought and died in Norway during World War II has been unveiled in Suffolk.
The monument, by Norwegian architect Leif Johannessen, was unveiled at Rock Barracks in Woodbridge.
It was presented to 23 Engineer Regiment (Air Assault) on behalf of the city of Oslo.
Ministry of Defence officials said the memorial marked the sacrifices made by British Royal Engineers - or Sappers - operating in Norway during the war.
"The monument is carved from stones cut to commemorate Hitler's victory in Norway and is the brainchild of renowned Norwegian architect Leif Johannessen," said an MoD spokeswoman.
"The project has been two years in the making."