Bid to preserve wartime ops room in Suffolk guildhall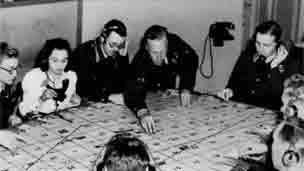 A campaign is under way in Suffolk to preserve one of the last World War II Royal Observer Corps operations rooms still in existence.
A project at the Guildhall in Bury St Edmunds wants members of the public to come forward to share memories of wartime life.
The aim is to create an exhibition and open the room to the public.
Project manager Matthew Champion wants local residents to share memories of the room when in use from 1939 to 1953.
"It was from this little room in the heart of the medieval Guildhall that much of the air defence of Suffolk was coordinated," Mr Champion said.
"As the only surviving example, the ops room it is of national importance and we need local help to ensure it is both preserved for the future and made accessible to the wider public".
The room was the headquarters for No 14 Group of the Royal Observer Corps and would have been staffed by local people.
They were in constant contact with numerous lookout posts and aircraft spotters to plot the movement of enemy aircraft over East Anglia.
"The ops room was just a single piece in a much larger picture but it was a vital link in Britain's wartime air defence.
"We are keen to hear from anyone who can tell us a little about their experiences of wartime Bury St Edmunds, " Mr Champion said.
Related Internet Links
The BBC is not responsible for the content of external sites.