'Enthusiasm' for Felixstowe Seafront Gardens revamp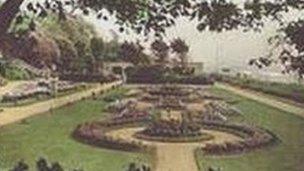 The multimillion-pound regeneration of gardens in Suffolk has attracted "great enthusiasm" from residents, a council has said.
The Felixstowe Seafront Gardens are to be redesigned under proposals by Suffolk Coastal District Council.
It said more than 500 people attended a recent public exhibition on the plans.
"There has been a lot of support, with people wanting to see the gardens restored to their former Edwardian glory," said councillor Mary Neale.
The cabinet member for countryside and leisure added: "Many people have grown up visiting the gardens and have fond memories so they want to ensure the regeneration does them justice."
Feedback given during the exhibition indicated that people believed any money awarded to the scheme should be spent on the restoration of key features and planting and diversity.
The council said this information would be very helpful in drawing up detailed designs.
Julie Smith, chairman of the Friends of Felixstowe Seafront Gardens, said: "It has been very interesting to see how people have responded to the plans so far and proves the significance these gardens hold for so many."
Residents will get a further chance to comment on designs in December, ahead of a submission to the Heritage Lottery Fund in February 2011.
Artwork will continue to be displayed in the Reunion Gallery in Felixstowe until 4 September.
Related Internet Links
The BBC is not responsible for the content of external sites.