Animal centre in Felixstowe looks for new site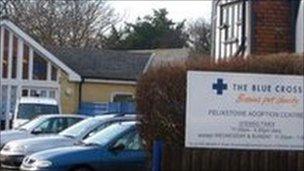 An animal centre in Suffolk which had been threatened with closure is looking for a new site after being refused planning permission to expand.
Earlier this year, The Blue Cross said its animal adoption centre in Felixstowe was "not fit for purpose".
It was opened in 1970 and a proposal to close it was dropped in May 2010.
The charity said repeated attempts to extend the High Street site had been rejected by Suffolk County Council and it wanted help in finding a new base.
It had hoped to buy part of the Orwell High School site from the county council, but it said it was not in a position to dispose of the land.
'Double fundraising efforts'
It said it needed to provide a dog exercise area.
Centre manager Andrew Gillon said: "We do understand the council's position but it's disappointing that we can't buy this land, as it's vital to provide the animal welfare facilities that we so badly need to stay on this site.
"So despite our best efforts, we'll now need to renew our search for another location for the centre and double our fundraising efforts to raise enough money for the move.
"A new location will give us the opportunity to extend our welfare services to other areas of Suffolk."
The Blue Cross said previous searches for a site were unsuccessful and that it may need to look a few miles further afield to find a "substantial plot".
The current centre will continue to operate until further notice.
Related Internet Links
The BBC is not responsible for the content of external sites.