Lowestoft amnesty collects 220 weapons over eight weeks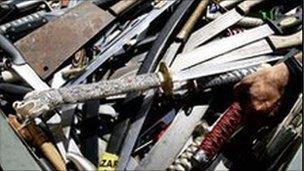 More than 220 weapons were handed in during an eight-week amnesty in Suffolk, police said.
The weapons were collected in bright yellow amnesty bins located around the town and port of Lowestoft.
The total of 227 included 118 knives, shotguns and dozens of more unusual items including a cutlass.
The haul also included cutlery, a revolver, a box of shotgun cartridges, three rifles, five hunting knives, a BB gun and a handgun.
Meat cleavers, pepper spray, a bayonet and novelty lighters which closely resemble handguns were also surrendered.
Sgt Steve Wright, based in Lowestoft, said: "More than 200 weapons have been taken out of circulation.
"I'm especially pleased that this has included potentially dangerous items such as large knives and guns."
Related Internet Links
The BBC is not responsible for the content of external sites.