Suffolk RSPCA is 'overrun' with ferrets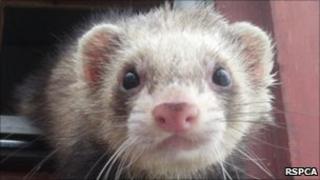 The RSPCA has been "overrun" with ferrets at the charity's animal centre in Suffolk.
The Suffolk East and Ipswich branch said it has been overwhelmed with the furry animals and its Martlesham Animal Centre had run out of room for them.
There are 17 ferrets at the centre, all which have been abandoned by their previous owners.
The charity is appealing for people to adopt or foster the ferrets, which staff said are easy to handle.
Becky Fox, deputy manager at the centre, said: "We really are at crisis point.
"We have just been inundated with ferrets at the moment, to the point where we just don't physically have the room to take in any more.
"We have no idea why we have had so many dumped on us this year. It is very concerning that the numbers are so high."