E-fit put out in burglary inquiry in Suffolk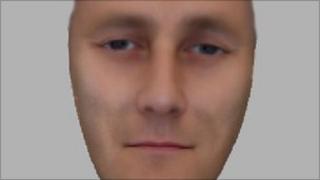 Police investigating a burglary at the home of a couple in their 70s in Suffolk want to trace a man seen soon after the incident.
Two people wearing ski masks went in to the house in Downs Place, Haverhill, on 1 October. One was armed with a knife.
They stole a phone from the woman as she tried to call 999. Her husband pushed them out with a chair.
An e-fit has been put out of a man, thought to be about 25, seen picking up an item from the ground nearby.
The incident took place at about 1915 BST and the offenders, believed to be men, ran off towards Crowland Road.
They were wearing dark clothing.
The couple were extremely shaken and the man suffered minor bruising, police said.
A man was seen at the top of the steps that provide access to Downs Place shortly after the offenders left the house.
The man dropped and then picked up something before running towards Crowland Road.
He is described as slim, between 5ft 6in (1.67m) and 6ft (1.83m), bald with a thin pointy face.
He appeared agitated and was wearing a light-coloured padded jacket.
Anyone with information should contact Suffolk Police.