Energy-from-waste contract awarded by Suffolk council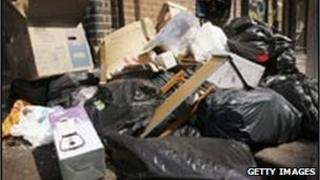 A contract has been awarded to build a £180m energy-from-waste incinerator to dispose of household rubbish in Suffolk.
The county council has commissioned SITA UK to build and run an incinerator to provide heat for electricity generation using household waste.
This waste currently goes to landfill but this has been deemed unacceptable.
The energy from waste could save £350m in landfill costs over the 25-year contract life, the council said.
The process is designed to generate enough electricity to power a town the size of Lowestoft.
The majority of the ash produced could also be re-used in building projects such as roads, the council said.
Lisa Chambers, portfolio holder for waste, said: "We are committed to recycling and composting as much waste as possible and are delighted that recycling rates in the county are improving.
"However, some waste simply can't be recycled and we needed to find the best possible solution for dealing with this."