Concern over rise in stray dogs in Suffolk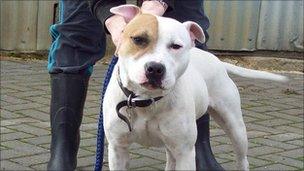 A council in Suffolk claims it has seen a "worrying increase" in stray dogs that go unclaimed.
Babergh District Council said abandoned dogs were taken to kennels and attempts were made to find the owners.
If they cannot be traced within a week, the kennel tries to find a home for the dog, but some end up being put down.
From April to September 2010, there were 12 unclaimed strays, seven of which were euthanised, compared with five during the same period in 2009.
Two of the five were put to sleep.
Senior environmental protection officer Jo Hart said the majority of dogs it dealt with were Staffordshire Bull Terriers.
"They were a popular status dog from a few years ago, but now are almost impossible to rehome," she said.
"This means that more and more are being put to sleep, even though they are acknowledged as a gentle breed."
Staffordshire Bull Terrier Diesel was picked up earlier this week in the Carsons Driver area of Great Cornard.
It had a collar and identity tag but the council said its contact details appeared to have been deliberately scratched off.
Ms Hart added: "This is a very sad situation.
"Most of the time owners are traced, but there has been a very worrying trend recently of more and more strays remaining unclaimed, apparently having been simply dumped by their owners.
"We don't know if this is the case with Diesel, but we are anxious to trace his owners.
"The council's service exists to deal with genuinely lost dogs and it is worrying that some people seem to be using it as a means to get rid of unwanted pets."
Related Internet Links
The BBC is not responsible for the content of external sites.