The first female dean at St Edmundsbury Cathedral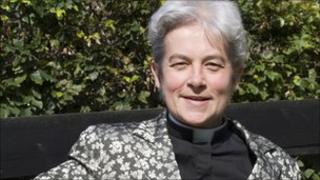 A woman has been installed as the first female dean of St Edmundsbury Cathedral.
The Very Reverend Canon Dr Frances Ward is the Church of England's fourth female dean.
She succeeds the late Very Reverend Neil Collings who retired in August 2009 due to ill health.
"I do believe that God is calling women to be priests and that's been borne out in my life," said Dr Ward.
Frances Ward was born in Australia and grew up in Ely before going to St Andrew's University to read fine arts.
After a year she changed course to study theology and eventually felt "God's calling" to become a priest.
"It just grabbed me because it was such an interesting subject - mind, body and soul," she said.
"I was fascinated by this question of who God was.
'A nagging inside'
"[God's calling] is like a nagging inside. You have a sense of being prodded. What is my life really about? What can I do that is best for the people around me? If God isn't love, then what is God?
"Then it felt like a bit of a fire inside that was kindling. It just gets more and more confirmed as you go along.
"Part of the problem with secular atheists is they want to turn God into a proposition. They want to say does God exist? Doesn't God exist? What's the evidence?
"That's asking the wrong questions. You need to get into the habit of God, the habit of prayer, the habit of loving your neighbour as yourself, of putting yourself to one side and not being narcissistic."
Dr Ward had been canon residing and theologian residing at Bradford Cathedral.
At a service in October 2010, she was installed as Dean of St Edmundsbury and inducted as Vicar of the Cathedral Church of St James and St Edmunds, Bury St Edmunds.
"I think the Church of England has a really good historic position in today's society and sometimes we're not confident and bold enough about that," said the Very Reverend Frances Ward.
"When Pope Benedict said Christianity was at the heart of public life, I believe that fundamentally.
"We need to be there talking about virtue, goodness, truth, beauty and the things that lift the human spirit."
Women bishops
Dr Ward is looking ahead to the debate on whether women can be bishops in the Church of England.
"The Roman Catholic church believes that tradition is really important and that you don't change things unless there are really good reasons to do so.
"I think that the Church of England is a catholic church and I believe in the presence of Christ in the sacraments and the word. I see myself as a catholic Anglican.
"But what happened in the Reformation is that the Church of England embraced modernity and the belief that change does happen and God does speak through the spirit of the times.
"The growth of feminism, the human rights agenda, liberty and emancipation of people who are oppressed comes through from modernity.
"It's important to recognise that women can be leaders as well as disciples.
"Christ was male, but the God he incarnated was neither male nor female and Christ transcends gender at the altar."