Estuary scheme to protect birds in Stour and Orwell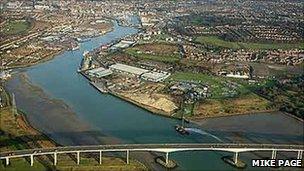 A new code of conduct has been drawn up for anyone using the Stour and Orwell Estuaries on the Suffolk-Essex border to protect the birds there.
The voluntary code has been drawn up by Suffolk Coast and Heaths for anyone using the river.
It has been put together in response to a study commissioned by the RSPB and other wildlife protection agencies.
The code aims to reduce disturbances for the birds there and protect the food they eat.
The code has been drawn up with the help of fishing bait diggers, anglers and conservationists.
A key element of the code will involve mudflats being closed over the winter months.
The code has been developed in response to a study commissioned in 2007 by the RSPB, Suffolk Wildlife Trust and the Suffolk Coast and Heaths.
It found that bait diggers, dogs off leads at high tide, dogs running on to mudflats at low tide, fast-moving boats and gunshots were the main causes of bird disturbance.
Trazar Astley-Reid, Suffolk Estuaries officer, said: "During the winter the Stour and Orwell estuaries are home to over 40,000 wildfowl and wading birds.
"All they need is peace and quiet to get on with the important business of feeding and resting, but increased human activity is preventing this and bird numbers are in decline.
"I have been assured by anglers and bait diggers that they will support the new code.
"Bait digging for personal use is a legal activity and has been part of the way of life on the Stour and Orwell estuaries for centuries.
"One of the aims of the new code is to ensure this continues."
Related Internet Links
The BBC is not responsible for the content of external sites.