Staff at fire-hit burger factory in Lowestoft lose jobs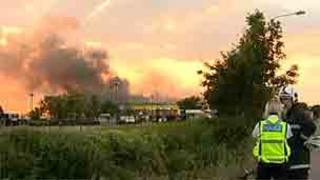 All factory workers at a meat processing plant destroyed by fire are to be made redundant after the company failed to find an alternative site.
Wessex Foods, which had processed mince and burgers in Lowestoft, said there was no suitable factory space in the town.
Its staff of 150 have been off work with full pay since fire wrecked the factory in July 2010.
Wessex Foods said it had made staff aware of vacancies in Norwich, Norfolk.
Workers had entered into a 90-day consultation with Wessex Foods, which ended earlier.
'Considerable regret'
"Vigorous efforts have been made to find a solution to allowing the company to continue temporary large scale production in the area, but this has not proved possible," a company spokesman said.
"They have been made aware of other openings in the Anglo Beef Processors Group.
"Additionally, a number of opportunities exist at the former Brooks of Norwich site where a minimal production has been taking place and is scheduled to continue in the short term."
The company will maintain an office in Lowestoft, he added.
"It is with considerable regret that our production at Lowestoft has possibly come to an end.
"We would like to thank our skilled workforce for their service in the past and wish them well."