'Concern' over fibre evidence at trial of Simon Hall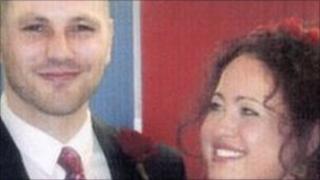 The validity of fibre evidence used to help convict a man of murder has been questioned by a forensic expert.
Simon Hall, now 33, of Ipswich, was found guilty in 2003 of killing 79-year-old Joan Albert. She was stabbed at her Suffolk home in December 2001.
Tiernan Coyle said that polyester fibres which were said to be green at Hall's trial were in fact black.
He told the Court of Appeal that when he first saw the fibre samples he thought there was "cause for concern".
Opening the case, Michael Mansfield QC said the challenge against Hall's 2003 conviction centred on fresh scientific evidence.
Mr Mansfield said the appeal "centres upon one area in particular - that is the question of fibres".
He argued that "one thing is now abundantly clear" - that the link between fibres at the crime scene and properties associated with Hall had been "broken".
Mr Coyle told the court he was asked to look at the case by the Criminal Case Review Commission (CCRC).
"When I first saw them (the fibre samples), it gave me cause for concern," he said.
Mr Coyle said, with the exception of one fibre, the flock fibres found at the address of Hall's mother were different from those found at the murder scene.
He said polyester fibres linking Hall to the murder scene were thought to be green at the original trial - which are rare.
But when he re-examined the fibres he found them to be carbon black, which is very common and of "low value evidentially".
Mr Coyle used the First Derivative technique, which is used to statistically analyse the presence of chemicals in fibres, to analyse the fibres in the case.
Simon Spence, for the Crown, questioned the reliability of First Derivative (FD) analysis and cited a scientific paper casting doubt on some of its results.
Mr Spence told the court the paper said the "FD technique can be beneficial but there is a risk it can show differences in fibres that are infact the same materials".
Mr Coyle said other forensic laboratories in the UK and elsewhere use the technique.
He said other clear differences between fibres were identified using different techniques.
The hearing at the Court of Appeal in London continues.