Simon Hall murder appeal judge reserves decision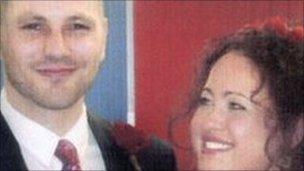 A man jailed for life for the murder of an elderly woman in Suffolk has been told he must wait for the outcome of an appeal against his conviction.
Simon Hall, 33, of Ipswich, was found guilty in 2003 of stabbing Joan Albert, 79, after a jury heard fibres found at her home linked him to the scene.
A three-day hearing at the Court of Appeal heard that a forensic scientist had cast doubt on the evidence.
Mr Hall was told that judgement would be reserved until a later date.
Opening the case, Michael Mansfield QC said the challenge against Hall's 2003 conviction centred on fresh scientific evidence.
Mr Mansfield said the appeal "centres upon one area in particular - that is the question of fibres".
He argued that "one thing is now abundantly clear" - that the link between fibres at the crime scene and properties associated with Hall had been "broken".
Jurors at the original trial were told that fingerprints, footprints and DNA evidence found at the scene of the murder did not match Mr Hall's.
But fibres from a pair of black trousers, in his car and in a cupboard at his parents' home, linked him to the murder, the prosecution forensic expert said at the time.
Forensic scientist Tiernan Coyle, who worked on the Damilola Taylor murder investigation, said with the exception of one fibre, the flock fibres found at the address of Hall's mother were different from those found at the murder scene.
But Ray Palmer, of the Forensic Science Service, insisted his own re-examination of the fibres "bolsters the initial findings", that fibres linked Hall to the scene.
He said the fibres he looked at showed a "high degree of congruence".
He said the First Derivatives (FD) technique used by the defence expert Mr Coyle - used to statistically analyse the presence of chemicals in fibres - exaggerated small differences and sometimes found differences in fibres which were known to be from the same source.
When cross-examined by Mr Mansfield, he said small differences in fibre analysis could be important and the FD technique could be helpful.
Related Internet Links
The BBC is not responsible for the content of external sites.