Tesco deal for affordable homes in Ipswich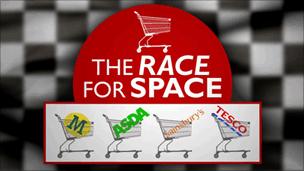 Ipswich Borough Council has come to an "in principle agreement" with supermarket giant Tesco over a £70m redevelopment and regeneration project near the town's docks.
Tesco is keen to have a supermarket branch in the area and has offered £4m towards the regeneration and finance to build 30 affordable homes.
The deal is contained in research by the BBC into the growth of the 'big four' supermarket companies - ASDA, Sainsbury's, Tesco and Morrisons - in the UK.
The BBC contacted every UK planning authority to discover how many shops from the big four received planning permission between 1 November 2008 and 1 November 2010.
The research includes applications for new stores as well as for lit advertising signs, an indicator of a store which does not need full planning permission because it has previously been used for retail purposes.
In the two years to 1 November, 39 new supermarkets were given planning permission across the East and if all current applications are approved at least 32 more will go ahead.
The research shows the big four companies are competing for space in Suffolk towns.
But all are willing to co-operate in many different ways with local authorities and community groups to win planning approval.
In Suffolk at least seven applications were made by the top four in the two years to 1 November 2010 and four were approved, creating extra floor space of 20,479 square metres.
Morrisons was successful with an application in Stowmarket, Sainsbury's in Mildenhall and Tesco in Ipswich and Woodbridge.
The supermarkets answer opponents to the developments by saying that the scale of their developments are complementary to growing populations.
Tesco has made a formal planning application for a site in Grafton Way in Ipswich and have included an offer of a section 106 agreement.
The planning act allows a local authority to enter into legally binding agreements as a condition of granting planning permission. This is called a section 106 agreement.
These agreements are usually a way of addressing matters that make a development acceptable in planning terms.
"They are increasingly used to support the provision of services and infrastructure, such as highways, recreational facilities, education, health and affordable housing," a government statement said.
A spokesman for Ipswich Borough Council said: "The council has supported the principle of this application for a major development between the town centre and the multimillion-pound Waterfront refurbishment.
"In common with any large application there are detailed issues still being discussed.
"The headlines of the section 106 agreement have been agreed but it is not appropriate to comment in detail until contracts are signed and planning permission is formally issued."
Related Internet Links
The BBC is not responsible for the content of external sites.