Suffolk gas explosion woman still in Essex hospital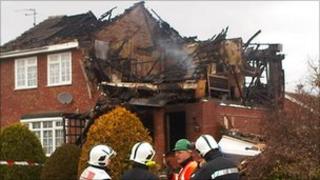 Investigators are continuing to look into the cause of a gas explosion that severely damaged a house in Suffolk.
A 50-year-old woman remains in hospital in Essex after the blast at Wrentham near Southwold on Christmas Eve.
The early morning blast tore off the roof and destroyed the bedrooms. A neighbouring house was also damaged.
The woman is in Broomfield Hospital in Chelmsford while her daughter was treated at Norfolk and Norwich Hospital and later released.