Hopes building work will start on drug rehab farm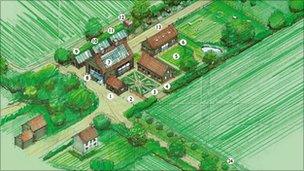 Work building a residential farm near Ipswich, aimed at helping drug users, should start this year, the owners say.
Talitha Koum is a Christian therapeutic community which will see up to 12 women living and working together.
The team behind it hope to start building this year but have said they need more donations before work begins.
"Last year we obtained a 40 year lease on the land, now we've got planning permission," said John Cobbold, the project's chief executive.
"We're a Christian project and with everything we've done, people do realise that god is in this plan."
Talitha Koum is a biblical quote meaning "My child, get up!" in Aramaic.
Mr Cobbold said: "2011 will be an exciting time for us.
"By the end of March we'll have all the building regulations and everything we legally need to start moving forward."
Those behind Talitha Koum say the project will welcome non-believers as well as Christians. They say the exact location of the site is not being publicised because they do not want drug dealers to come to the farm and attempt to sell to the women.
The idea for the community first came about in 2004, but Mr Cobbold says it was the murders of five drug-addicted women who worked as prostitutes in Ipswich in 2006 that highlighted the need for new ways to help substance abusers.
Mr Cobbold said: "What happened in Suffolk with the tragic loss of the five women, people wanted to help but they didn't know how.
"The money coming in at the moment is coming from Christians and organisations who have a heart of compassion.
"We still do need finance and we still do need volunteers.
"We need £50,000 so we can start off the first building work, so we can start our 21st Century smallholding.
"Then we need £500,000 to complete, so we can take the first of the 12 women on a residential treatment plan."
Some locals have voiced fears about drug users living in their neighbourhood.
Talitha Koum has held meetings with villagers to try to address their concerns and says it is producing a DVD and booklet about the project.
Mr Cobbold said: "We've tried to educate local people and address their fears, so we feel this is now in an acceptable form.
"We've cut the numbers down from 18 to taking on just 12 women at a time, we've minimised traffic and we've looked at how we can landscape it.
"We're optimistic that we'll start doing our social enterprise and our horticulture and have some women on the farm in 2011."
Related Internet Links
The BBC is not responsible for the content of external sites.