Suffolk church vault revealed after floor gives way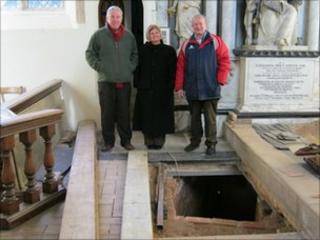 A church vault dating back to the early 1600s has been discovered in Suffolk after a member of an amateur dramatics group put her foot through its ceiling.
Part of the floor of St Mary's Church in Redgrave fell away while Kathy Mills was rehearsing for a musical.
It revealed the vault, which contains the remains of two families.
Ms Mills said: "I was aware my foot had gone down but I didn't really know any more than that because I was in excruciating pain."
Members of the local amateur dramatics group were rehearsing for a production of Quasimodo when Ms Mills felt the floor give way.
"It was a loose slab," she said. "Because I was holding on to two people as we were doing a dance routine, they saved me really."
Underground passages
Rumours of underground passages and vaults beneath the medieval church had long circulated locally.
The building is in the care of the Churches Conservation Trust backed by the Redgrave Church Heritage Trust and only weeks before the discovery, radar mappings had shown the existence of a space below the church floor.
Ms Mills's accident revealed the entrance and steps leading to a passage to the vault.
The lead-lined coffins of 11 adults and four children belonged to the Bacon and Holt families, who were lords of the manor.
Experts believe they date from 1710 to 1900 and the last time the vault was opened was in the 1930s judging by a newspaper that has been found.
Entrance stone
Bob Hayward, chairman of the Redgrave Church Heritage Trust, said: "The old Bacon vault dates back to the early 1600s.
"A shaft used to go up into the vestry area for them to bring the coffins down from the 1600s to the 1700s."
The vault has been visited by Dr Julian Litten who is a church warden at All Saints in Kings Lynn and a funerary historian.
Mr Hayward said: "[Dr Litten] said seeing this is as rare as hen's teeth. It's a fantastic thing to see - you don't very often see these things."
Work on carrying out repairs to the vault began in November 2010.
The vault is open for final viewing on Saturday and Sunday before the 400kg (880lb) entrance stone is put back in place.
Ms Mills said she had not decided if she was going to go down into the vault herself.
She said: "I'm not very good around coffins and feel a bit uncomfortable.
"But when it comes to it maybe I will, I'm not quite sure."