BBC Introducing Masterclass inspires Suffolk acts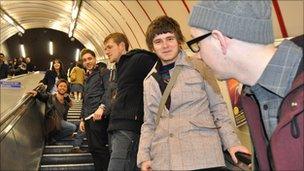 Seven musicians from Suffolk received expert advice as part of the BBC Introducing Masterclass in London.
The world famous Abbey Road and Maida Vale studios hosted the day of seminars and workshops.
Kaiser Chiefs, Calvin Harris and Labrinth were amongst the stars giving advice to 250 unsigned artists.
"It's been absolutely overwhelming," said Chris Athorne, from Suffolk band This Boy Wonders.
Chris was joined by fellow Suffolk acts Emma Cherry, Henry Homesweet and members of Millionaires by Morning, The Cads and Gay Keyring.
The cavernous Studio One at Abbey Road hosted the on-stage conversations between BBC DJs and the established artists, who also included Tinchy Stryder and Mark Ronson.
Steve Lamacq's session with Kaiser Chiefs, charting their early success as Parva to being dropped and then returning with worldwide success, provided inspiration for Chris.
"Everything they were saying was backing up what I'm doing at the moment, so that was refreshing to hear and it makes you a bit more confident that you're on the right track," he said.
"I'm full of ideas now and want to put them into practice."
Ipswich singer/songwriter Emma Cherry spent three years working on her debut album, which was recorded at home.
She received words of advice from 6Music DJ Tom Robinson, who made 19 albums during his recording career.
"Tom Robinson in the lyrics session had some really valid points," said Emma.
"He said to get up first thing in the morning and write for half an hour when you're sleepy, which is good because I've written a lot of songs whilst not really with it."
Chris Francis is one half of Ipswich electro hip hop band Gay Keyring.
Ironically, given the stature of the studios, it was advice on home recording that pleased him.
"My highlight was listening to the Pete Tong session with Calvin Harris and Labrinth, talking about how they produce tracks," he said.
"Hearing Calvin Harris talk about his recordings, and how mainstream artists still use old techniques was good to learn."
The Pete Tong session was also a highlight for Felixstowe chiptune artist Henry Homesweet.
"It's been immensely inspiring," he said. "I haven't felt this motivated in a long time.
"I learned a lot about the importance of developing your sound and keeping true to yourself.
"It's really convinced me to push music as much as I can."