Suffolk library campaigners aim to prevent 29 closures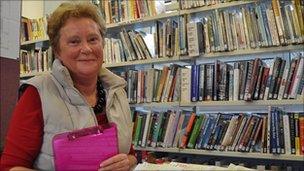 A former schoolteacher is behind a campaign to save her local library which is threatened by Suffolk County Council's proposed cuts.
A consultation is being held over the local authority's plans to close 29 public libraries.
It hopes to save £1.06m, leaving 15 branches open.
Jennie Pink, a retired teacher, said: "We're protesting in Saxmundham. In just one week I've got 1,100 signatures against closures."
Suffolk County Council runs 44 libraries and six mobile library vans.
The Conservative-run council's savings in the libraries budget are partly to cover a £700,000 overspend in the care budget.
Ms Pink said: "The council could look at cost cutting, rather than closure.
"Maybe they could consider one day's closure, not re-ordering stock for a period, bringing in volunteers to assist librarians or even consider a subscription charge for this period of perhaps £5 or £10.
"The feeling out there is of outrage, anger and disappointment that our county councillors can consider the library service not to be needed."
The consultation lists the 15 libraries the county wants to keep, while the rest would become community libraries or face closure.
Suffolk County Councillor Judy Terry said: "The council will be meeting interested organisations and community groups and organising question and answer sessions.
"However, should responses to the consultation prove disappointing, it is imperative that we make the necessary savings, meaning that we may have to close 29 libraries."
While many towns and parish councils are setting up working groups to investigate divestment, some are approaching the consultation with caution.
Marion Andrews, chair of Saxmundham Town Council, said: "I hope we shall get overall support for wanting to keep the library open, but I don't think this is something the town council can do.
"We haven't got the reserves to run a library and I know it is quite a costly business.
"With all respect to my fellow town councillors, I don't think any of us have the experience necessary to run a library."
Saxmundham Town Council will discuss the matter on Monday, 14 February.
Suffolk County Council's libraries consultation runs until Saturday, 30 April.
The county is proposing to make £42.5m of savings in total in 2011/12 and the full council will vote on the budget on Thursday, 17 February.
BBC Suffolk's Any Suffolk Questions? programme looking at county council cuts is broadcast at 1800-1900 GMT on Wednesday, 16 February.
Related Internet Links
The BBC is not responsible for the content of external sites.