Suffolk police call for more drug sniffer dogs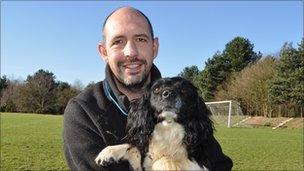 Suffolk police are appealing to the public to donate unwanted gundogs to them rather than to rescue centres.
The force said the drugs trade meant there was a constant need to recruit sniffer dogs.
Its current team of 11 officers and 22 dogs carried out 250 searches of buildings and vehicles last year.
Sgt Mick Hart said: "The drugs culture is as prevalent as it's ever been and there's a need to take drugs off the street and stop this criminality."
Willow, a 20-month-old Labrador, and an 18-month-old cocker spaniel called Woody are the latest recruits to the Suffolk police dog section.
If successful in their training, they will be teamed up with an officer who is also in charge of a German shepherd which is used in a more general role.
Sgt Hart said: "With drugs we need a dog that is smaller and more agile. The gundog breeds have got the energy, but without the devastation that a German shepherd could have going into a small flat.
"We need a dog that is absolutely fixated with a toy. So dogs that are perhaps too boisterous for a family home might make a perfect police dog."
Training involves getting the dog to search for a small ball. Samples of various drugs will then be hidden with the ball, so that the dog associates the search with the scent of illegal substances.
When the dog is carrying out a genuine search, it will find the drugs and stay there looking for a non-existent ball.
The handler will then provide a ball as a reward.
Unlike the German shepherd, the gundog is not trained to bite on command.
Officers say they develop a close relationship with their animals.
Sgt Hart said: "They live with them 24/7 and they've got a kennel in the back garden so they are very much 'their dogs'.
"I see more of my dogs than I do of my wife and children.
"The dogs here have a wonderful life. You can see how much enjoyment they get out of it and the work of the dogs is as crucial as it's ever been."
In 2011 the National Police Dog Trials are being held in Suffolk for the first time.
They will take place at Trinity Park near Ipswich on 16 and 17 April and the event is open to the public.
Related Internet Links
The BBC is not responsible for the content of external sites.