Comic Relief: Red Nose Day 2011 in Suffolk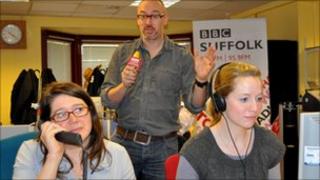 Red Nose Day 2011 takes place on Friday, 18 March - with the nation ready to do something funny for money.
BBC Suffolk is setting the example by attempting to turn presenter Simon Talbot into a stand up comedian.
Simon, who is also the Breakfast Show's travel reporter, will have just one month to practise before performing at The Apex, Bury St Edmunds.
The 750 capacity venue will host a special Red Nose Day event on Wednesday, 9 March.
The aim of Red Nose Day is to have a laugh while raising money which can transform lives across Africa and the UK.
Across the UK your cash can help to provide comfort for isolated older people and help to give young carers their childhoods back. In fact it is likely you are never more than 30 miles from a Comic Relief supported project.
In Africa, your money helps to restore people's sight, to protect families from deadly malaria, to give an education to children whose lives have been torn apart by war, and so much more.
Each BBC local radio station in the East has been asked to nominate one member of staff to undertake a crash course in stand up comedy.
They will then face the audience at The Apex, and a judging panel, to see who can be crowned the funniest in the East.
Simon provides plenty of laughs on his Sunday afternoon show with co-host Matt Marvell and he also has some experience of stand up comedy, albeit a long time ago.
"I had a go at stand up in the mid nineties," he said.
"So I know first hand about the stomach churning horror of stage fright, the eternal silence of a joke that falls flat and the blind panic of forgetting your next line.
"I also know how good you feel when you get through it.
"Back in the day, I used to rehearse in front of the mirror using my lucky hairbrush as a substitute microphone.
"Fifteen years later and comedy baldness has made this prop sadly redundant, but I will be removing it from its display case at home in order to prepare for the event.
"It's all in a really good cause and I am looking forward to seeing if I am funnier in my forties than I was in my twenties."
Full details of the show, including ticket details can be found on The Apex website.
Support Simon
To show your support for Simon on BBC Suffolk text "Suffolk" to 70011.
Texts cost £1 plus your standard network message charge. £1 per text goes to Comic Relief.
You must be 16 or over and please ask the bill payer's permission.
The texts for each comedian in the East will be tallied up and the totals will be announced at The Apex event on 9 March.
The texts are not part of a competition, but a way of fundraising whilst offering moral support for your local aspiring comedian.
Red Nose Day 2011
To find out how you can raise money and take part, visit the Red Nose Day 2011 website.
If you are hosting a local fundraising event and would like to tell us about it than let us know by emailing: suffolk@bbc.co.uk