Suffolk fishing boat hit by 200,000-tonne tanker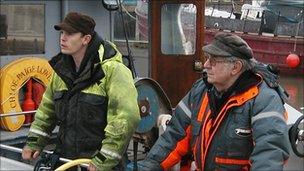 Two fishermen have said they feel lucky to be alive after their fishing boat was hit by a 200,000-tonne oil tanker off the coast of Suffolk.
Richard Morgan and Brian Wright were on board the 10m (34ft) Chloe-Paige when it was struck on the bow on Tuesday.
Skipper Mr Morgan said he contacted the Zaliv Vostok when he saw the danger and was told it would pass safely.
"I looked at the pictures of my two daughters and I thought we were going to die."
Mr Morgan added: "There are currently 71 tankers off our coast.
"The sea off Lowestoft is like the M25 and for sailors it's like an accident waiting to happen.
"But I count my blessings and I'm lucky to be alive.''
He compared the tanker to a floating tower block, while Mr Wright described it as "a 40ft wall of steel".
Chloe-Paige was dragged half a mile by its anchor line, before breaking free.
The boat's bow railings were damaged but it survived the encounter relatively unscathed.
The Maritime and Coastguard Agency said the Yarmouth Coastguard had been contacted about the collision and its enforcement branch had been made aware.
Contact has not been made with the tanker but the incident has been added to a pan-Europe database, which informs all ports, a spokeswoman said.
Russian-based shipping company Prisco, which owns Zaliv Vostok, was unavailable for comment.