Stowmarket store Hopgoods closes after 114 years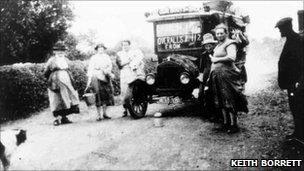 A Stowmarket shop which opened more than 100 years ago is closing, with the loss of 10 jobs.
Hopgoods began in 1896 as a horse-drawn delivery service selling paraffin and household goods.
It moved to new premises on Gipping Way in 1992 and was taken over by Bretts Furniture three years ago.
"It has been a very difficult and upsetting decision to make," said Anthony Brett, director.
Mr Brett, who also runs Bretts Furniture in Ipswich, said the recession was partly to blame for Hopgoods closing.
"The wheels fell off the economy and I think poor old Stowmarket has really been squeezed between Ipswich and Bury," he said.
"I've been over the figures so many times with the accounts, who had been telling me to do it for a year.
"I had hung on and on, but eventually you run out of ideas and money."
Anne Whybrow, town and county councillor for Stowmarket, said she was sad to see Hopgoods close.
She said: "Hopgoods is a name that is synonymous with Stowmarket. Perhaps we'll have Hopgoods in another way - Hopgoods Road, Hopgoods Way - we'll have something."
The store ceases trading on Sunday, 13 February.
Related Internet Links
The BBC is not responsible for the content of external sites.