Firefighters march against Suffolk County Council cuts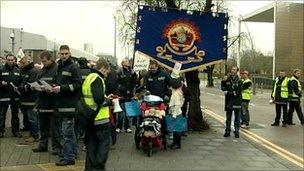 Firefighters have staged a rally in Suffolk to highlight the impact possible cuts could have on them.
Members of the Fire Brigades Union (FBU) claim the fire service is already one of the lowest funded in England.
They were lobbying against anticipated cuts which they claim could endanger lives because of longer response times.
To save money the county council plans to use more retained crews but Suffolk Tory MP Dr Dan Poulter said the fire service budget should be ring-fenced.
Part-time retained crews work at other jobs and respond to pagers when there is an emergency.
Andy Vingoe, chairman of the union branch in the county, said: "Those four or five minutes delay could make the difference between us turning up and deciding we do not want to go into a burning building because it is no longer safe.
"But when you have a mother, father of grandmother shouting at you that their baby is inside and want you to go in firefighters find themselves in a very difficult position.
"And we've seen in other parts of the country firefighters do go in and sometimes pay with their lives for wrong decisions."
Suffolk Central MP Dr Poulter spoke out in advance of the county council decision on the cuts next week and backed the protest.
He said: "All that central government is asking the county council to do is go back to spending levels of 2007/08 - three years ago.
"My view is that we should be investing in the fire service and it should be ring fenced.
"That is why I am supporting the Fire Brigades Union and all they are doing."
Related Internet Links
The BBC is not responsible for the content of external sites.