EACH Treehouse Appeal golf tournament in Felixstowe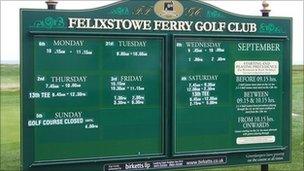 BBC Suffolk and the Rotary Club of Ipswich East are hosting a golf day to raise money for the EACH Treehouse Appeal.
We are looking for teams of three to take part in the event at Felixstowe Ferry Golf Club on Wednesday, 4 May 2011.
Entry costs £145 per team and this includes meals of fish and chips.
Profits go to the East Anglia Children's Hospice's (EACH) Treehouse Appeal.
The Rotary Club is also asking local businesses to sponsor a hole for £100.
"It's a fantastic course," said Mark Loades, appeal development manager at EACH.
BBC Suffolk is helping EACH raise £3m for a new children's hospice in Ipswich.
"We're getting so close - it's events like these which will keep the money coming in and help us get to the £3m," said Mark.
Tee off times can be chosen between 9.30am and 3pm and a range of prizes will be awarded.
To give money directly to the Treehouse Appeal, please send a cheque made payable to EACH Treehouse Appeal to:
EACH Treehouse Appeal, Epsilon House, West Road, Ipswich, IP3 9FJ
The appeal donation line number is 01473 276116.
The Treehouse totaliser is getting updated on a weekly basis.
Related Internet Links
The BBC is not responsible for the content of external sites.