Prince Charles to visit Pakenham Water Mill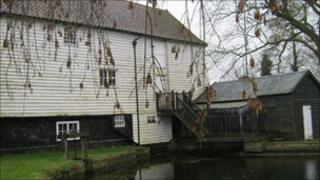 An historic mill in Suffolk is preparing to renovate its 100-year-old iron water wheel at a cost of £34,000.
The Prince of Wales will visit the mill at Pakenham to see what work needs to be done on Friday.
The existing water wheel was made a century ago at the Risbygate Iron Foundry in Bury St Edmunds and repair work will begin next week.
David Eddershaw, mill curator, said: "Not surprisingly, it's in need of some repair."
He added: "When the prince is here we will actually be milling.
"When he leaves we will present him with a bag of flour which will have been milled during his visit."
"We're just about to start a big project to replace all the iron buckets - there are 140 of them."
'No difference'
The new buckets will be cast at Fransham Forge near Dereham, Norfolk.
As they are made they will gradually replace the existing buckets over the course of a year so that the wheel can continue to operate.
The repair work has been funded by general fundraising and grants from other bodies including the Suffolk Environmental Trust and the Pilgrim Trust.
The mill is due to open to the public for the summer on 2 April.
Mr Eddershaw added: "The news that the Prince of Wales is going to come and visit us just a month before that has certainly made us get a move on in our normal preparations.
"I always enjoy showing people round this mill. Whether it's the Prince of Wales or somebody from the village it doesn't really make any difference."
The royal visit will start in the shop and ticket office, where the prince will meet some of the staff who work at the mill, which has been producing flour since the 18th Century.
Prince Charles is also visiting the cathedral and Theatre Royal in Bury St Edmunds on the same day.